Advancements in technology are one of the main reasons why the construction industry is continuously moving forward.
Because of technologies that are continuously being created and enhanced, the construction industry is able to build stronger and more energy-efficient buildings or structures, improve safety for construction works, increase productivity, enhance teamwork or work collaboration, and be able to do more challenging projects.
Without technology, can you imagine what the job site would be like today? 
How would the workers of the construction industry work on a daily basis? 
What would be their daily challenges? 
If we take away all the technology we're using now, we'd probably still be drilling holes, cutting boards, and doing the dangerous labor work by hand. Laborers would be digging trenches manually with shovels and other equipment. Without an elevator, most of the buildings would only be a few floors tall. 
New technologies are constantly being improved and created which is why most of the future technology we thought or dreamed about years ago like autonomous heavy equipment, drones, robotics, 3D printed buildings, mobile applications, and other tools are now being used by worksites all around the world. 
In today's world, if the construction business wants to be on top, they should always adapt to the latest technology. This is why it's odd why there are still companies that are slow when it comes to adapting the latest technology, as companies like these are surely going to go down or take huge step backs. 
Of course, no one wants that to happen for their business. 
So, if you think your company is one of those companies that are slow when it comes to adapting to new technology, you should read on because, in this article, we'll be talking about how technology is revolutionizing the construction industry. 
And if you haven't figured it out yet, this is a definite sign that you have to take your company into the next level and continuously move forward. 
Below, we have listed some of the main areas showing exactly how technology is revolutionizing the construction industry. Take a look at all of them below:
PRODUCTIVITY
Mobile Applications and Software
At present, there are a lot of existing software and mobile applications made specifically for handling construction projects and construction-related things such as the construction management tool called Pro Crew Software. 
Usually, these applications are cloud-based which means that it allows changes and updates to be made on documents, schedules, and other tools all in real-time, enhancing communication and collaboration of everyone involved for the best. 
These applications and software do not only increase communication, but it also increases productivity, thus increasing profits in the long run.
OFFSITE CONSTRUCTION
Usually, offsite construction is used on projects with unvarying layouts like hotels, apartments, hospital buildings, dormitories and more and is usually done in a controlled surrounding. 
It comes in 2 forms:
Modular Construction
A whole room can be built with MEP and already have fixtures installed. These units are then moved to the construction site, inserted, and then attached to the structural frame.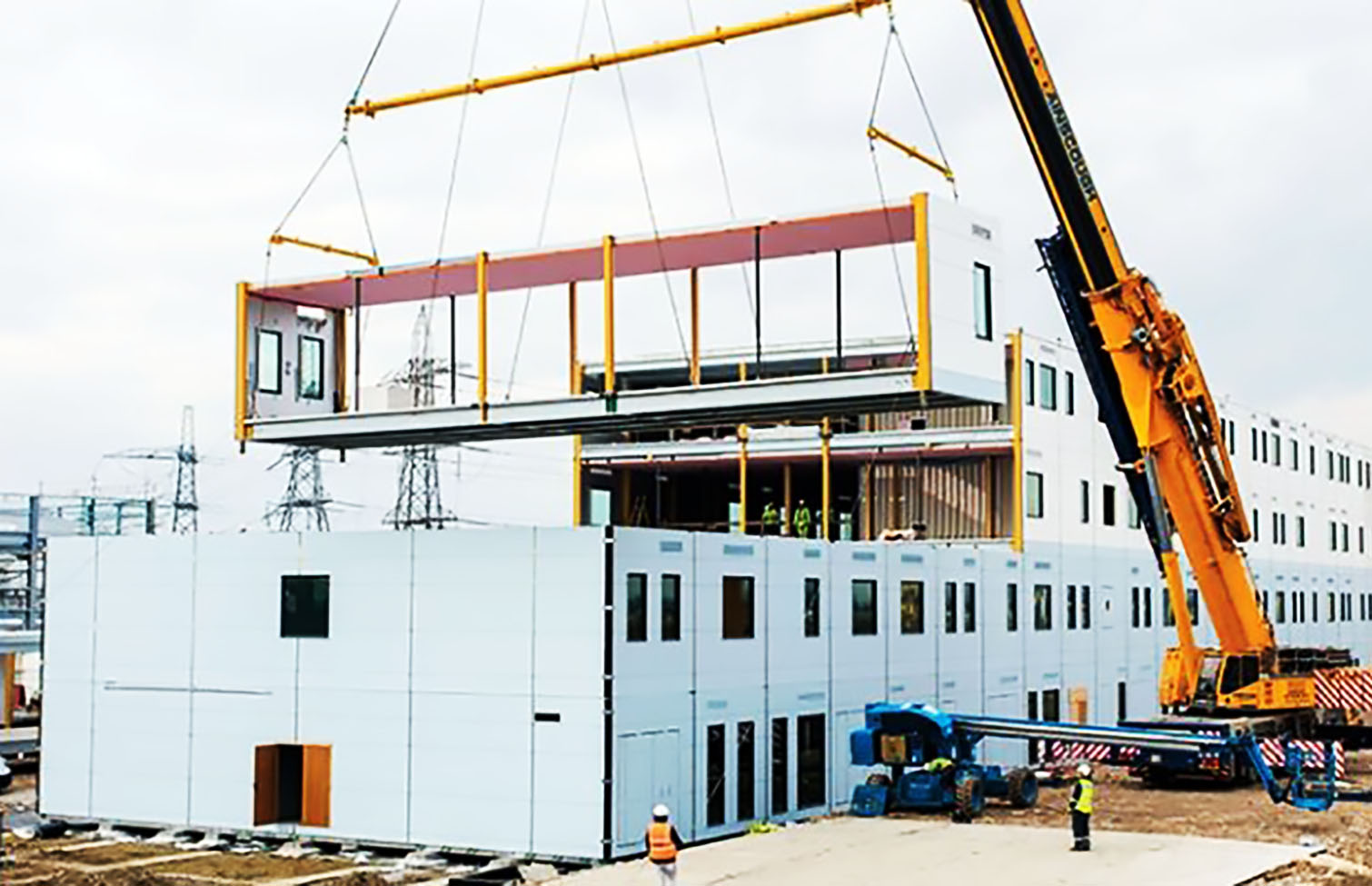 Prefabricated Construction
Building components are built outside the worksite, moved back to the worksite, and then assembled and installed.
SAFETY AND TRAINING
Virtual Reality
Virtual Reality has a huge impact on the industry, most especially in ensuring safety and proper training. Virtual Reality simulators have been used for many years to train not only construction workers to have exposure to environments like confined spaces, but also soldiers, pilots, and even officers. 
In the construction industry, VR helps workers get trained and used to any kind of environment safely.
Wearables
In order to make the work site much safer, it is essential to use wearable technology to be able to monitor or track workers and their surroundings. 
Wearable technology is placed into apparel or a PPE (Personal Protective Equipment) that is present in the worksite like gloves, safety vests, and a hat. 
These wearables have biometrics, location trackers, voltage detectors, environmental sensors and more sensors to be able to track the worker's movements and of course, safety.
COLLABORATION
Mobile Technology
Thanks to the new mobile apps and continuously improving smartphones; collaboration and communication have become much easier and faster in just a few clicks. 
We no longer have to take a long commute and be stuck in heavy traffic for sudden meetings or for getting the document you left in the office. Because of mobile technology, it has become easier to set and schedule meetings, send copies of documents, photos, videos, and give instructions and updates online. 
It can let you see updates and make changes in real-time as well as allow you to schedule multiple meetings, communicate with team members, clients, or stakeholders, gather all documents, and make construction work life much easier.
BIM
BIM or Building Information Modeling is a method that incorporates 3D digital representations of buildings to design and construct better buildings. This will enhance communication and productivity as well, as BIM happens in real-time so if there are certain updates or changes made, it will be immediately accessed or communicated to all team members. 
Technology, indeed, has revolutionized the construction industry. Not only does it make laborious work much easier and safer, but it paved the way for a more advanced and continuously enhancing industry. What does technology have in store for the construction industry in the near future? Well, no one knows, but it will surely be something remarkable. 
We at Pro Crew Schedule make every effort to stay up with technology and we are always implementing the latest technologies in our software. This is how we give our customers a competitive edge.